How to Start a Website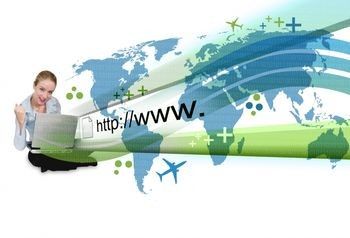 Today there are close to 250 million websites all around the world, and once you learn how to start a website, you can add to this number. There are many advantages of running a website, especially if you are involved in the provision of services or goods of some kind. The Internet is a powerful way of carrying out your business operations, and also of making your presence felt.
Starting a website is not a difficult task by any means, and this is exactly why there are so many millions of them in place. What's more important is ensuring that your business website runs smoothly, and gets hits, or visits, from the targeted audience. Soon you will discover, that the Internet is a great source of income if it is optimized and managed effectively, and also if you follow the instructions to increase web traffic.
Starting a Website
The first step is to get a unique domain name. This is simply the name of your website, and this is the address that people will have to type in their address bar to be directed to your website. You will need to pay an annual fee to a registrar for this purpose, and you will have to pick a name that is unique. It is best to pick a name that gives a fair idea about what's the nature of your business, or the purpose of your operation is. A new domain name can cost anything between $10 – $20 annually, but if you are buying an established domain name from someone, the cost could run up to millions of dollars. A domain name is one of the key elements of a good website, and along with picking a good domain name, you need to establish for yourself, what the purpose of your website is going to be. It could fall into any one of the categories mentioned here.
It could be a Brochure/General Information website, that just provides data and information pertinent to some specific thing.
It could be a Content website, that acts as a library of information with the thousands of pages that it possesses.
It could be a Blog, which is a regular update of information by a specific person or party, that deals with something specific.
It could be a Retail/E-commerce website where the buying and selling of goods or services takes place.
It could be a Database website, which is merely a collection of data and information that has been collected from a variety of other sources.
Lastly, it could be a Forum/Community website, where people come and give their opinion about certain events or products.
Once you have figured out your purpose, and have acquired a good domain name, you will be ready to proceed further. The next step for you is to find a good web host for your website. A website lives on the Internet through a web host, and this is something you need to understand more about, if you are genuinely interested in learning how to start a website. The kind of web host you choose will also affect the cost to build a website proportionally. You can choose any one of the following methods for web hosting.
Shared Web Hosting: Where you share the server with other websites. Your speed and traffic will be affected by the traffic on the other websites over the server.
Dedicated Web Hosting: It is costlier, but it is worth it since the server is solely dedicated to running your website alone.
Cloud Web Hosting: The newest form of web hosting, where the server exists over the Internet itself, and not physically. Network security could be a concern in this case.
Many people argue that the best way to start a website is to hire a professional web designer to do it for you. This is because the next step is something that should be carried out by someone who is experienced in the field. This is the step of designing the layout of the website itself. The most important thing to do here is to ensure that all the information you wish to portray is easily visible, and that the website looks aesthetically pleasing as well. Including information about where and how to contact you is also vitally important in this step. Designing a nice logo for your company and showing it on the website is also highly recommended. With an effective layout and website design, you can ensure that visitors find everything that they are looking for.
What Happens Next?
Once all this happens and your website is fully functional, the next step, is to update your content on a regular basis. After all, it is the website content that will keep people coming back to visit you again. You can use text, multimedia content, Flash content and even podcasts to update your website regularly. If you wish to start a website for free and ignore all these pointers, it is recommended that you start a blog, because running a website is something that needs time, attention and resources. Other tips include using unique pictures, using website content development software, and preferably hiring a content writer.
After all this is done, you need to ensure that the marketing of your website is done effectively as well. This includes submitting your website to a search engine (preferably Google), taking advantage of social networking websites, sending out emails to visitors and other methods of Search Engine Optimization (SEO). There is no fixed answer for 'How much does it cost to start a website', because it all depends on the purpose of the website and the nature and scale of operations, and the amount of website promotion that you carry out.
This information should be sufficient enough to begin with, and you will learn more tricks and tools about what makes a good website, along the way. Remember that there are millions of other websites competing with you, so you need to find something that truly makes you unique and sets you apart.