250 x 250 Reklam Alanı
This post has already been read 3779 times!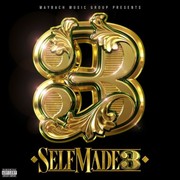 "SELF MADE 3," the latest groundbreaking installment in Maybach Music Group and Atlantic Records' hugely successful compilation series, has continued the tradition laid down by its two predecessors with a top 5 chart debut, entering this week's SoundScan/Billboard 200 at an explosive #4. Moreover, the blockbuster collection – executive produced by Maybach Music Group (MMG) founder Rick Ross – has also made hip-hop history by threepeating at #1 atop Billboard's "Top Rap Albums" ranking.The eagerly awaited release of "SELF MADE 3" was commemorated by the successful "SELF MADE 3: The Live Experience," an unprecedented concert event that saw Ross and fellow MMG superstars Meek Mill and Wale each performing concerts in three different cities, all livestreamed via Maybach Music Group's newly launched www.MMG.tv. The one-night-only event – presented by Klooma and powered by MyArtistDNA – kicked off with Wale's performance from the University of North Carolina – Charlotte's Halton Arena (part of J. Cole's epic "What Dreams May Come Tour"), followed by Meek Mill's set at Washington, DC's Ibiza Nightclub. "SELF MADE 3: The Live Experience" then culminated with a full-length concert from the one and only Rick Ross, live and direct from New York City's intimate Gramercy Theatre. Fans around the planet were able to view the three complete sets via MMG.TV."SELF MADE 3: The Live Experience" drew national critical applause, with The Source hailing Ross as an "aggressive" and "energy-filled…master of ceremonies." Vibe further praised the MMG kingpin in their photo review by noting that "Rick Ross is the fuel America runs on…his performance embodied the essence of self-made."As if that weren't enough, Ross and the MMG roster celebrated this phenomenal success of "SELF MADE 3" this past weekend with the 1st Annual MMG Weekend. The three-day extravaganza rocked Miami with an array of performances and parties featuring such illustrious MMG members as Meek Mill, Rockie Fresh, Omarion, and Stalley. The event received a range of media attention, with SPIN documenting the festivities at www.spin.com/gallery/rick-ross-mmg-weekend-miami-photos."SELF MADE 3" is undoubtedly among the most important hip hop releases of the year, following upon two previous collections that both topped Billboard's "Top Rap Albums" charts while also making top 5 entries on the overall Billboard 200. The new compilation features contributions from MMG label artists performing at the very top of their games, including such hip hop luminaries as Meek Mill, Wale, Stalley, Omarion, Rockie Fresh, and of course, Rick Ross himself (see attached tracklisting). What's more, "SELF MADE 3" is marked by guest appearances from an array of superstars and rising artists, with Yo Gotti, Lil Boosie, Birdman, J. Cole, Pusha T, Fabolous, French Montana, and many others all lending their extraordinary talents to the collection. Highlights abound, from Mill's "Levels" and Rick Ross' "Gallardo (Feat. Yo Gotti & Gunplay)" to Omarion's "Know You Better (Feat. Fabolous & Pusha T) and the all-star "Poor Decisions" from Wale (Feat. Rick Ross and 1st & 15th/Atlantic recording artist Lupe Fiasco). As if that weren't enough, the "SELF MADE 3" Deluxe Edition – available exclusive at Best Buy – adds two further tracks featuring Stalley, Meek Mill, Omarion, Rockie Fresh, and Rick Ross.The acclaimed "SELF MADE 3" has stood tall among the many important hip-hop releases in recent weeks, with widespread Twitter activity and a cavalcade of rave reviews. XXL praised "Ross and his ever-expanding crew of talent," noting that the album's many "hits should have a lasting impact, serving as jump off points for several of the artists on the label. Rozay can't ask for much more than that.""SELF MADE 3" is but one of Maybach Music Group's extraordinary 2013 releases, coming hot on the heels of Wale's blockbuster new album, "THE GIFTED," which exploded into the #1 spot on the SoundScan/Billboard 200 upon its release earlier this summer. September has also seen the arrival of Stalley's "HONEST COWBOY EP," the acclaimed Ohio MC's much anticipated debut retail release and follow-up to the sensational compilation that earned him a "Best Mixtape" nomination from the upcoming 2013 BET Hip Hop Awards.For more information, please see www.mmg.tv, www.mmgselfmade.com, www.rozayraw.com, and www.atlanticrecords.com.