What are the Steps in Creating an Online Business?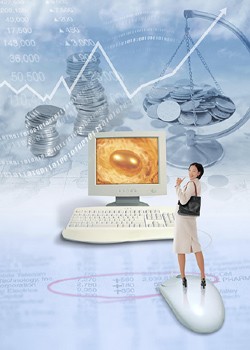 The Internet has opened up a wide range of business opportunities for one and all. Perhaps this is the reason why almost all the businesses have their own websites. Well if you are still in the planning stages about your online business, then here are some guidelines for you. Most of the people don't know where to start from, for all such people here are some suggestions and tips which will be definitely helpful.
Steps in Creating an Online Business
Step One: The first and most important step in creating an online business would be to get a personal computer and a secure Internet connection. Having a PC and a twenty-four hour uninterrupted Internet service is a prerequisite. An Internet business calls for the highest amount security because of online money transfers as well as security of important passwords.
Step Two: The second step is a crucial one. This is the time to establish your identity on the Internet, that is, registering for a domain name. You will have to register for a domain name, which will be thereafter your identity on the World Wide Web. You need to think of an appropriate URL which is relevant, catchy and popular in terms of search engine optimization as well.
Step Three: Well, now that you have these things in place, you need to clearly define the goods and services that you plan to offer on the Internet. Create a soft copy of all the things, which you would like to tell your customers.
Step Four: It is now time to design your website. Always remember that the website is often considered as a reflection of the businessman and hence it needs to be clear, precise attractive and convenient to use. You don't need to be an expert in web designing and content writing, all you need to do is hire the right kind of people to do that job for you.
Step Five: Since a large number of online customers will be using their credit cards to pay for your goods and services you need to establish a way to accept credit cards online. Creating a merchant account with a bank or using a third-party merchant account can help you accept credit cards from online customers.
Step Six: Try and place your advertisements on closely related websites. You can also make use of blog advertising by creating a blog to supplement your website. Think of all possible methods of Internet marketing. Make use of online marketing and advertising tools like Google Adsense or Google Adwords.
Step Seven: Well, now that you are all set for a launch, you need to create hype about your website. This is the time to use all the types of advertising to promote your website! Newspaper ads, radio jingles, television advertising, email advertising or even mobile phone advertising – use all the types that suit your needs as well as fit your budget. And launch your website with a big bang!
Step Eight: The final step in making your business a huge success is to focus on improving your customer service and consider customer feedback for further changes and improvements. Maintaining a customer base is as important as expanding the existing customer base.
, What are the Steps in Creating an Online Business? blog.enghost.org farkıyla sizlerle.