Protecting Your Computer Without Slowing it Down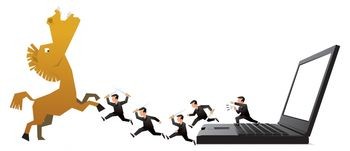 Having problems with your system running slowly after installing the latest and greatest antivirus and/or security programs? Then you are not alone. Back in 2006 when I was installing the new version of a popular antivirus program for a customer, I discovered that there was no longer a way to disable all the other bothersome and unnecessary utilities that came with it. I decided then and there that there had to be a better way to protect your computer without having to bog it down with things you don't need.
So the search was on for a good antivirus program that did not need over 100mg of ram to run in. I settled on NOD32, by ESET. It was ranked consistently in the top five of all the tests run by Consumer Search, a website that analyzes product reviews and recommends the products that are determined by consumers to be the best. So I thought that I would give NOD32 a try. I talked with some dealer friends to see if any of them had heard of NOD32, and one person said he had tried it and he absolutely loved it.
I installed it on two test computers and got busy testing it out. It worked very well right off the bat and did not slow either PC down in the slightest. I even ran a test to see if it could pick up a virus that had been missed by Big Yellow (the mainstream antivirus program most people use), and it did catch it.
I'm not a programmer or antivirus expert, but I have over 25 years in the IT world and for the last 21 years I've owned my own network engineering business. I know what it's like in the real world when a virus can disrupt operations for hours or days. In January of 2007 I installed my first two NOD32 licenses for a customer, and I have not looked back. Since that time I have installed over two hundred NOD32 programs on my customers' systems, and there hasn't been a single failure to catch a virus.
NOD32 is a modularized program; there is a separate module that covers online operations, one for e-mail, one for Office applications, and one for real-time scanning. They work quite well together. I won't name names, but if you've had it with Big Yellow or Big Red (the second most popular antivirus program) I would highly recommend that you give NOD32 a try. You can download a fully functional 30-day trial from ESET's website and see what you think. NOD32 is also cheaper in the long run because you can buy up to a three-year license at a discount rather than having to renew your license each year.
As good as NOD32 is in catching viruses, there are some other threats that you need to be concerned about. One concern many people don't even know about is all the extra baggage that is downloaded in the background when you are on the Internet. This is important because more malicious software gets downloaded in temporary files and locations than ever before, and the threat keeps growing. When you visit websites, often they install tiny files on your computer without you even knowing it – advertisers such as Doubleclick and 24/7 Media are the main culprits. You don't even know these sites are installing crap on your computer until things eventually slow down or come to a screeching halt. What you want is a little program called ccleaner. You know what that first "c" stands for right? This is a highly configurable utility. From deleting all those downloaded files, to managing cookies, to a registry cleaner, this is a very good utility to have.
Last but not least is a good adware or malware or spyware program. Ad-Aware by Lavasoft is a good free non-commercial product. With the free version you have to download your updates manually, but it is easy to do. If you buy the professional version it will update in the background just like an antivirus application will. And for the really stubborn issues try the malewarebytes program. I have used this when I have needed to specifically check individual files, although malewarebytes does take some time to complete.
Numerous threats are lurking on the Internet, just waiting for unsuspecting people to come along so they can attack your computer. These three products will help ensure that you're protected.