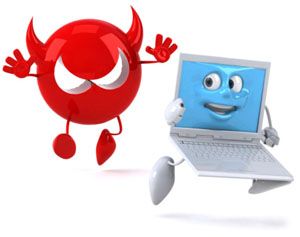 When you connect with the Internet these days, you open up a portal that gives you access to the information super highway. However, the portal has a two way access. Therefore, these portals let computer hackers lay hands on your private data, through the use of computer viruses. Computer viruses are programs designed to either corrupt your system, gain access to your private data or gain control over your computing resources. Nowadays, computer operating systems are equipped with firewalls and other security measures to protect you from hacking attacks. Still, viruses may gain access through whatever chinks are left in your computer's firewall armor, which is just never enough. Computer virus infection may spread via the web pages you visit, your USB flash drive or even through downloaded programs.
Viruses are malicious programs designed to exploit the loop holes in your computer's operating system. To deal with them, what you need are antivirus programs, which can do the job of apprehending these viruses. To detect viruses, the antivirus programs simply scan your system and identify viruses through comparison with their regularly updated database. They isolate, quarantine or remove such programs directly from your system. Most programs primarily check the core operating system files on your hard drive. They have various features which can detect any kind of unusual software activity when you are browsing on the Internet or accessing a storage device.
Online Virus Removal
There are certain websites that let you scan your system and remove viruses online, free of cost. They run a virus scan by temporarily adding a plug-in into your web browser, which scans your hard drive. However, getting your hard drive scanned like this can be risky. Make sure that the site that you are using can be trusted. Otherwise, it may so happen that you will subject your computer to hacking, in a bid to remove viruses! Use online computer virus scanning software with caution.
Free Antivirus Software
I would personally recommend that instead of going for online scans, go for the best free antivirus software programs available on the web. They provide you with all the basic scanning features that you need, along with a virus database, which is regularly updated. They can perform a range of tasks including trojan horse virus removal. Some of the best antivirus programs, that can let you remove viruses and spyware for free are:
Avast Antivirus
AVG Anti-Virus Free
Microsoft Security Essentials (For Windows Only)
Avira AntiVir Personal
All these programs can be directly downloaded from their respective websites and easily installed on your PC. They are antivirus, as well as antispyware software programs. Choose any one of the above programs to eliminate viruses. I have personally used AVG antivirus to remove viruses from my computer for free and it has given me a satisfactory performance for years.
All you need to do is download one of the above suggested programs and install it on your computer. They can remove all viruses for free. Make sure that the program receives regular updates, and schedule a regular virus scan. While no antivirus software can guarantee perfect immunity from viruses, most of the above suggested programs will work well for you. If you need complete security and you don't want to take chances, when it comes to security of your data, go for the paid antivirus software versions of AVG or Avast Antivirus, which can provide your computer with all-round security.